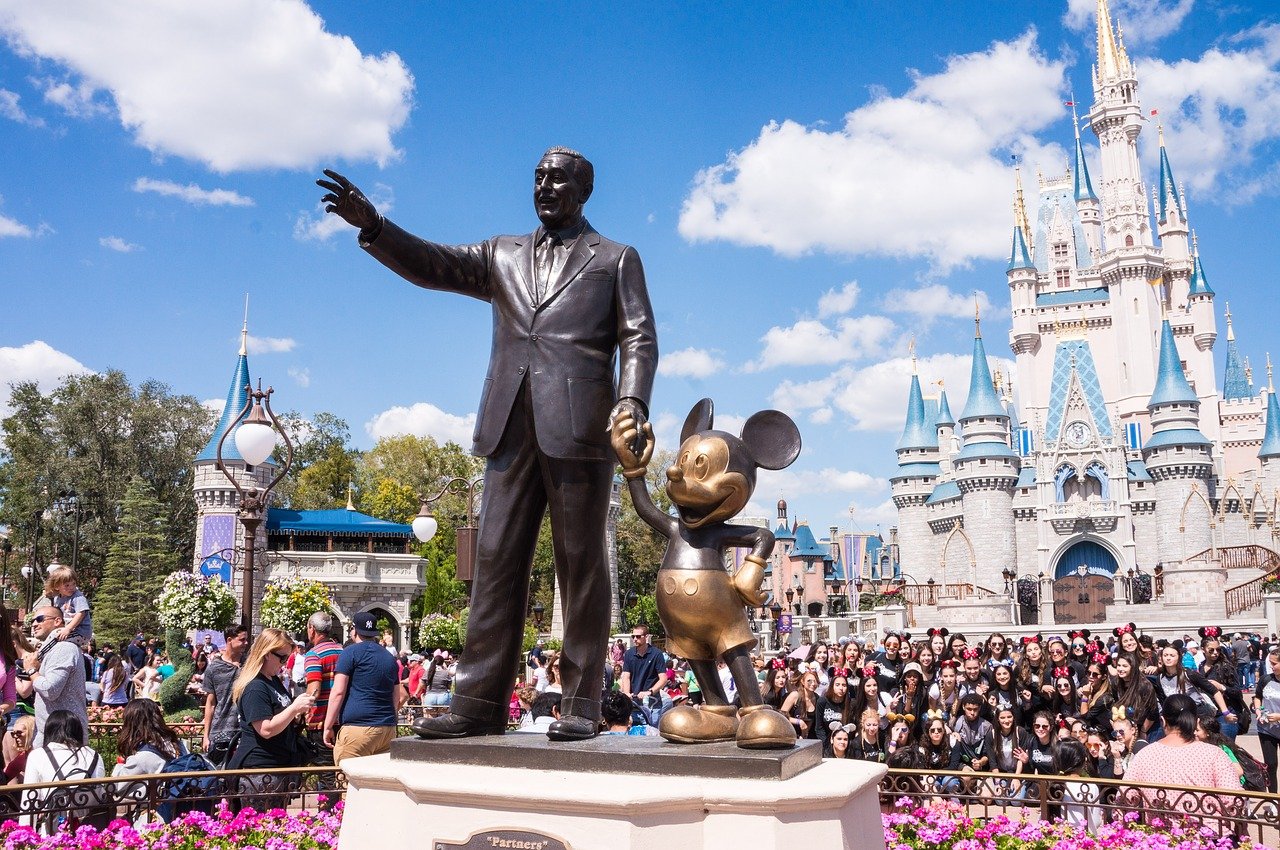 Disney films have been a staple in the lives of families since the company's first feature, "Snow White and the Seven Dwarfs," was released way back in 1937!
In the decades since, Disney has released more than 700 beloved films, from animated classics like "Beauty and the Beast" and "Cinderella" to live-action epics like the "Pirates of the Caribbean" series.[1]
Walt Disney actually holds the record for the most Academy Award wins by one person, winning 26 trophies and earning more than 50 nominations throughout his career.[2]
Whether you're participating in pub trivia or hosting a fun family night in, we provide more than 200 ready-to-use Disney trivia team name options on our list below!
Any Disney fan should be able to find a cool name on our list, but if you'd like to put your creativity to the test, we also share some tips below to help you create your own names.
"Aladdin"
Jasmine's Journey

Rajah's Rebels

Jafar's Justice

The Street Urchins

Lamp Legacy

New World Wonders

Genie's Guild

The Agrabah Bunch

Three Wishers

ideal for a team of three

Abu Alliance

The Forty Thieves

Sultan's Rule

Iago Inc.

Merchant's Matrix

Prince Achmed's Posse

Flying Carpet Force

The Cave Crew

Genie-us

Cave of Wonders

Magic Carpet Riders

The Sultan's Court

Diamonds in the Rough

Aghrabrainiacs
"Alice in Wonderland"
The Very Important Dates

Hearts & Tarts

Cheshire Collective

Nonsense Nation

Mary Ann's Maids

All Mad Here

Tea Party Posse[3]

Curiouser and Curiouser

Rabbit Hole Heroes

Tweedledees and Tweedledums[4]

Tea Time!

Taller and Smaller

Looking Glass Group

Queen's Quest

Mad Hatter Holiday

Alice's Evidence

Crisis Caterpillars

The Red Queen's Rooks

The Cheshire Grins

The Tweedles
"Beauty and the Beast"
Rogue Roses

Lumiere's Luminaries

Mrs. Potts' Posse

Cogsworth's Crew

Gaston's Guys

Forever Cursed

Gaston's Ego

Enchanted Rose Revue

Timeless Tales

Taco Belles[4]

The Beast's Brigade

Belle's Beauties

Books a Million

Literary Legion

Be Our Guest

Lefou's League

Curious Chips

Jingle Belles

Belle's Bookworms

The Enchanted Roses

Cogsworth's Chronologists
"Brave"
King Fergus's Force

Bibbidi Bobbidi Booyah![4]

The Sword Society

Highland Hooligans

Merida's Mystery

The Wee Ones

Dingwall Dudes

Triple Threat

Queen Elinor's Endeavors

Macintosh Matrix

Cinderella, ella, ella, eh, eh, eh[4]

a play on Rihanna's song "Umbrella"

MacGuffin's Guild

Castles & Kilts

DunBroch Derelicts

Peg Leg Legion

Destiny Awaits

The Angus Alliance

Clydesdale Confidants

Triplet Bear Terrors

Team Tapestry

The DunBroch Dragons
"Cinderella"
Stepsister Society

Midnight Madness

Glass Slipper Squad

Carriage Travelers

Lady Tremaine's Troupe

Kingdom Power

Anastasia's Attitude

The Fairy Godmothers

Ella's Evidence

Drizella's Dominators

Servant To Princess

The Ball Bunch

The Charming Princes

Lucifer's Lair

Everlasting Optimism

Jaq, Gus, & Company

Happily Ever After

Fairy Godmothers/Godfathers

Royal Courtiers

Glass Slipper Searchers

Castle Cleaners
"Frozen"
Ice Escapades

The Snow Society

Weather Wizards

Olaf's Officers

Sisters Forever

Kristoff's Klub

The Arendelle Alliance

Anna's Associates

Elsa's Elements

Sven's Squad

Emotional Triggers

Icy Powers Posse

Into the Unknown

Magic Matrix

Snowman Builders

Letting It Go!

Winter Eternal

The Curse Crew

Climate Collective

Snowflake Surprisers

Winter Formal

Elsa's Entourage

Olaf's Optimists

The Arendelle A-Team
"The Little Mermaid"
Poor Unfortunate Souls

Ursula's Witches

Ariel's Sisters

Charming Mortals

Mermaid Matrix

Whosits and Whatsits Galore[4]

Flounder's Follies

The Eel Twins

King Triton's Tridents

Seashell Squad

The Dinglehoppers

Gadgets, Gizmos, Whozits, & Whatsits

Flotsam & Jetsam Inc.

The Lost Voices

Prince Eric's Posse

Merpeople United

The Scuttle Set

Sebastian's Singers

Redhead Rebels

Under-Sea Squad

Triton's Trio

Flounder Fan Club

Ursula's Underlings

Triton's Troupe
"Moana"
Samoan Inspired

Chief Tui's Crew

Sina's Serenity

Into the Darkness

Moana's Journey

Motunui's Villagers

Wayfinding Ancestors

Te Fiti Legends

Maui in Focus

The Te Kā Disasters

The Lei Legion

Heihei's Heroes

Heart of Te Fiti

Kakamora Pirates

Tamatoa's Troop

Te Feti Protectors

The Heihei Horde

Pua Pals
"Mulan"
Mushu's Gong Ringers

Great Stone Dragons

Ping's Posse

Mulan's Matchmakers

Yay or Yao!

Army of Huns

Fa Zhou's Forces

Khan's Kollective

The First Ancestors

Shan Yu's Pillagers

Lucky Cri-Kees

Hayabusa Falcons

Avoiding Ambush

General Li's Elite

Ling's Recruits

Chein-Po Strong

Fa Li La La La

Once in a Dynasty
"Pocahontas"
Bold Unity

A Little Mischief

Inspired by Pease

Smith's Squad

Pocahontas Personas

Moccasin Matrix

Powhatan People

Kocoum Collective

Grandma Willow's Spirits

Ratcliffe's Rebels

Ceasefire

New World Nation

Flit Fly-Bys

Percy's Priority

Meeko's Momentum

Noble Natives

Meeko's Mob

Jamestown Journeymen

The Riverbends
"The Princess and the Frog"
Princesses & Frogs

Louisiana Stars

Tiana's Tales

Charlotte's World

Gumbo Guild

Man-Catching Beignets

Stella's Chaos

The Naveen Imposters

Mama Odie's Order

Shadow Man Magic

Talisman Tribe

Facilier's Friends

Mardi Gras Gang

Cajun Fireflies

The Broken Spells

New Orleans Dreams

Bayou Bosses

Frog Princes
"Sleeping Beauty"
Angelic Aurora

The Good Fairies

Wheel of Jeopardy

Briar Rose's Rebels

True Love Legacy

Flora's Flowers

Fauna's Critters

Merryweather's Magic

Maleficent Meanies

Spinning Risks

Prince Philip's Peasants

The Goon Guild

Kiss for a Curse

Red Rose Reality

Samson's Riders

Sleepy Beautiful Dreamers

Maleficent Menaces

Three Good Fairies

Maleficent's Mafia
"Snow White and the Seven Dwarfs"
Evil Queen Division

Working Whistlers

Snow White Sisterhood

Visibly Vain

The Fairest Ones

Scullery Maid Matrix

Cottage Clan

Magic Mirror Club

Huntsmen Circle

The Wicked Stepmothers

Bashful Band

Sleepy Circus

Sneezy Inc.

Grumpy Coalition

Happy Heroes

Doc's Gang

Dopey Generation

The Evil Queen's Court

Dwarven Do-Gooders
"Tangled"
Fellow Fugitives

Drops of Sunlight

The Magical Flowers

Mother Gothel's Gang

Rapunzel's Gold

The Flying Lanterns

Tower Association

Long Hair Legion

Pascal's Chameleons

Sky Lights Legacy

The Stabbingtons

Snuggly Ducklings

The Flynn Force

Healing Hearts

Maximus Nation

Vladimir's Unicorns

Hook-Handed Thugs

Princesses in Peril
How to Create Cool Disney Trivia Team Names
Create cool Disney trivia team names using the following tips:
Name your team after its favorite Disney character. If your team can't decide on just one favorite, you can put it to a team vote or combine several names. Add a descriptive word to complete your team name if your team chooses a single favorite character.
Think about interesting Disney facts and create a team name with one. You could use a fact about Walt Disney himself, a movie character, or even Disney movie quotes. If the phrase or fact you want to use is too long for a team name, find a way to narrow it down to just a word or two. Get creative!
Find a single word that comes to mind when you think of Disney. Most of us have known of Disney parks and movies since childhood. Try incorporating a term that encompasses everything you love about Disney, like "magic." If you have trouble coming up with words, start with just a few and then look up the synonyms. This will give you lots of additional options for finding your perfect Disney trivia team name.