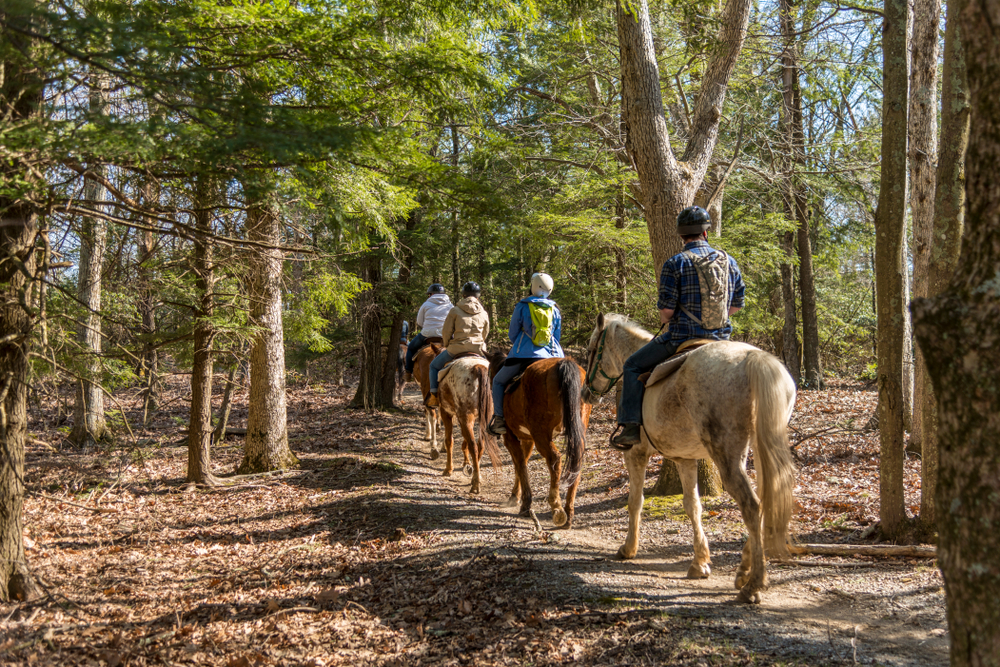 Horseback riding is thought to have been around since at least 4500 BC.[1]
In the Americas, trail riding has been a part of life since the arrival of the first European explorers, if not earlier.[2]
In the 1940s, as cars became more prominent, preserving natural spaces and trails became a priority. Today's riders can thank groups like Equestrian Trails, Inc. and the National Park Service for maintaining and protecting the trails they ride today.[2]
Trail riding club names can pay tribute to the history of horseback riding, pay respect to the majesty of the experience, or just be fun and catchy to attract new riders!
We have more than 40 options below, plus tips to help you create your own name ideas.
Bridleway Bunch

Stallion's Stroll Club

Adventures on Horseback[3]

Trotting Troop[4]

Galloping Rhythm

Club Majesty[5]

Elite Equine Trail Club

Trail Blazers[6]

Coastal Colts

for groups that love coastal trails

The Happy Trail Riders

The Loopers

for groups that love loop trails

The Braided Manes[4]

At a Gallop[4]

Equine Quest Trail Riding Club

Tack Troupe[4]

To the Lakes Trail Riders

for groups that love lake trails like those in White River National Forest or Rocky Mountain National Park

[City/County/State] Trail Explorers

Stubborn Mules Trail Riding Club[6]

Right Path Riders

Riding Ablaze[5]

Side Saddle Squad[4]

[City/County/State] Horseback Club

Tranquil Trails

The Saddle Squad[6]

Riding Majestic[5]

[City/County/State] Equestrian Trail Riders

Cadence Club

Bit Chompers[4]

[City/County/State] Equine Trail Riders

Tranquility Saddle Club

Wildflower Trail Club

Flying Leaps[4]

Pegasus Trail Club

Club Wild[5]

Trotting Troop[6]

Pony Trails

High in the Saddle[5]

Unbridled[6]

Shadow Jumpers[4]

Riding Riot[5]

Riding Iconic[5]

Two Bit Trail Club

Invincible Riders[6]

Trigger's Trail Club

inspired by Roy Rogers' horse

Pony Pals[6]

[City/County/State] Riding Trek

Riding Continental[5]

[City/County/State] Riding Group

Riding Richness[5]
How to Create Your Own Trail Riding Group Names
Keep the following tips in mind when brainstorming to create your own trail riding group names:
Think about what you love most about trail riding. Is it the majestic landscapes, the opportunity to go screen-free for a while, or the horses themselves? Choose a name that reflects your favorite thing about hitting the trails.
Get inspiration from history. Iconic horses, trail riders, preservationists, and even mythological creatures can make great inspiration for your group name. For example, one of the options on our list references Pegasus, the divine winged horse from Greek mythology.
Use equestrian terminology. Words like "bridle," "saddle," or "stallion" can be fantastic starting points for your name. Combine them with simple descriptors like "Trail Club" or "Riding Club" to clarify the group's purpose to new and prospective members.
Take input from the group. The more minds you put together when making your decision, the easier the choice will be! Brainstorm along with your group and develop a shortlist of names you all like. You can then vote or have the group leader choose the best option from the list.