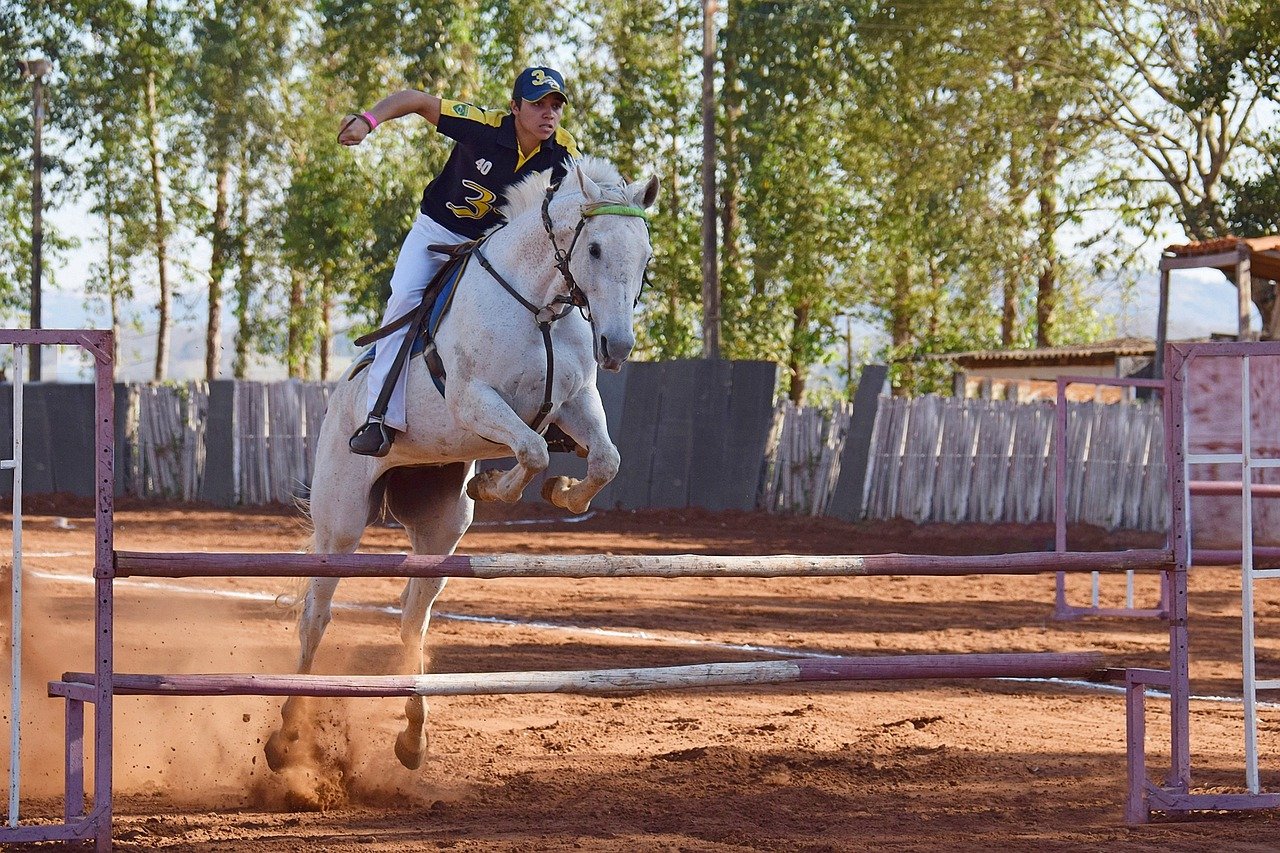 Horses have lived alongside humans for thousands of years, but they've been on the planet for approximately 50 million years![1]
First domesticated around 4000 BCE, horses have played a role in developing our agricultural practices, building our countries and cities, facilitating travel, and conducting wars.[2]
Horse team names can be as diverse as individual horses themselves. You can choose from cute, funny, or more professional names.
Our list has a variety of options. We also have a name generator, or see our tips on creating your own horse team name after the list.
Flying Foals

Back in the Saddle

Arabian Knights

Trotting Titans

Shadow Jumpers

Pony Patrol

Spurs Sisterhood

Riding High[3]

Celestial Stable[3]

The Bucking Brigade

Storm Weavers

The Jodhpurs

The Turnout Club

Withers Warriors

Riding Ablaze[3]

Riding Majestic[3]

Never Spooked

Bold Blazes

High Meadows[3]

Riders Up

Dressage Inc.

Half-Halt Herd

Muckers Nation

Rushing To the Ring

Galloping Colts

Western Stars

Don't Rein Us In

Canter Collective

Wild Mustangs

Avoiding the Obstacles

Side Saddle Squad

Prancing Ponies

Furious Jumpers[4]

Near Side Society

Flying Leaps

Above the Bit

Trotting Tribe

Bit Chompers

Fine Riders[3]

Champion Force

Horse Oasis[3]

On the Offside

Pinto Posse

The Pole Benders

Dapples United

Canter Crew

Appaloosa Alliance

Rogue Allstars

Quarter Horse Legion

Stallion Storm

At a Gallop

Twilight Warriors

Paddock Posse

On the Bit

Backyard Horses

Proper English

Reining In

Riding Serendipity[3]

The Braided Manes

Powerhouse Ponies

The Racing Steeds

Club Exquisite[3]

Tack Troupe

Withers & Leather

In the Paddock

Blinkers Off

Forefoot Force

Horse Shoe Society

Bran Mash Bunch

Never Skittish

The Billets Brigade

Blaze Association

The Chaps Collective

Kimberwicke Kin

Morgan Matrix

The Stars Guild

Stallion Squad
Horse Team Name Generator
How to Create a Great Horse Team Name
If each team member has their own horse, you may want to incorporate the names of the horses into your team name — perhaps using the first few letters of each name to create a unique word.
Here are several more suggestions to help you create your own name:
Research all about horses. If you are a horse lover, you may already have a vast amount of horse knowledge and terminology at your disposal. Look for interesting and unique terms about horses or equestrian activities that would function as a great horse team name.
Get together with your group and brainstorm. Creating ideas alongside others can be helpful and motivating. It is also great to have access to ideas and suggestions that may not immediately come to mind for you. With your team, make a large list of ideas, then whittle it down until you find the perfect name!
Think about well-known horses and riders. Your group may want to give a shoutout to an inspirational horse and/or rider by creating a team name based on them.
Feature the horse's breed. If the team's horses are the same breed, you can create a name around that; if several breeds are in the group, you may be able to combine the breed names.
Go abstract. If you'd prefer a name that doesn't directly reference horses, riding, or other related terms, choose a name that just sounds cool to you! Just because your team is all about horses doesn't mean your name has to be that way, too. Empowering phrases like "Power Up" can also make for great horse team names.