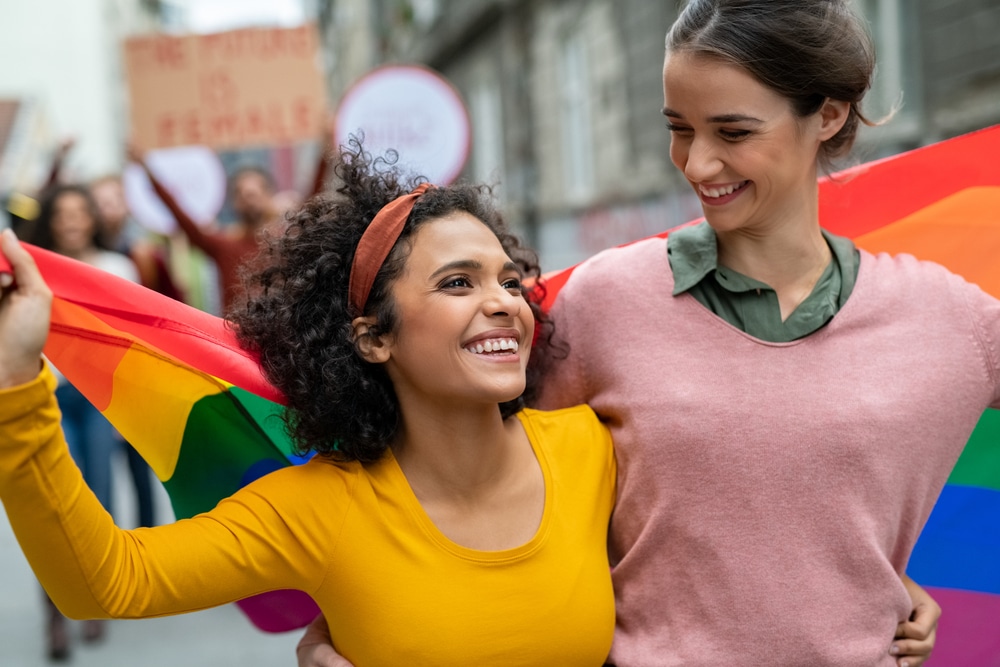 Support from close friends, teams, or community organizations is shown to improve mental health and overall well-being for those in the LGBTQ+ community.[1]
In professional settings, LGBTQ+ organizations can help you find jobs, mentors, networking opportunities, and referrals.[2]
With 80% of gay and lesbian youth reporting that they experience social isolation,[3] dedicated teams and LGBTQ+ groups can also provide the opportunity to feel comfort and acceptance in a social setting.
Whether you're creating an LGBTQ+ group at your school/college or naming a community organization, it's essential to choose a name that sets the right tone for your group.
Some group names should be serious, while others can be funny or sarcastic — it all depends on your group's purpose and the preferences of your members.
See our list of LGBTQ+ group name ideas below or scroll past the list for our name generator and tips on creating your own ideas.
Crystal Queer

Queerspace

Loud & Queer

True Colors

The Proud Collective[4]

PRISM

reference to the rainbow or could stand for something like People Respecting Individuality (and) Sexuality (in) Medicine

Queer Collection

SAGE

Sexuality and Gender Equality

Putin's Nightmare

SAFE[5]

Sexuality Advocacy for Everyone

HERO[5]

Helping to Educate Regarding Orientation

Shades of Love

Spectrum Club

Diversified[4]

Be You[4]

GSA

Gender (and) Sexuality Alliance or Gender (and) Sexuality Awareness

Solace[5]

a safe space

LGBTeens

Act Out[5]

political action group supporting LGBTQ+ causes

The Furious Drag Queens

Diversity

Sappho's Place

reference to the Greek poet

Q&A[5]

Queers & Allies

Different and Proud[6]

Queer Qrew

GSRG

Gender (and) Sexuality Resource Group

Planet Queer

Stonewall Heroes

The Gender Revolutionaries

Rainbow Renegades

Rainbow Alliance

DNA

Definitions Not Applicable

Pride Coalition[7]

Queer Collective

Allies

Rainbow Lounge[8]

Rainbow Rascals

Sexuality and Gender Alliance (SAGA)

Pride and Freedom

All the Colors[6]

Rainbow Cake[6]

Rainbow Club

Pride Club

The Love Warriors

[School/Work Name] for Sexual Identity

Different Folks[4]

[School/Work Name] Queers

Pride Room[9]

The Proud Place[4]

OQS[5]

Out, Questioning, Straight

The Spectrum

Everyone Is Welcome[4]

Reading the Rainbow

LGBTQ+ book club

Proud Place[9]

BeYou

The Colorful Life[10]

The Rainbow Room[4]

The Freely United[4]

DGS

Diverse Genders and Sexualities

GSD

Gender and Sexuality Diversity

GSM

Gender and Sexual Minorities

Campus Pride[11]

Pride Society

Two Spirit Circle

Love is Love League

LGBTQ+ Liberation

The Queer Quorum

Pride Posse

Gender Mavericks

Pride Pioneers

The Queer Coalition

Lavender Ladies

Femme Squad

Sapphic Sirens

All Out

Equal Ground

Equality Network
LGBTQ+ Group Name Generator
How to Create a Good LGBTQ+ Group Name
Keep the following tips in mind when creating your group name:
Make sure your group name reflects its members. LGBTQ+ groups are often inclusive of a variety of gender identities, but not always. Be as specific as necessary; if your group welcomes all identities, use basic phrases like "Gender and Sexuality" or "LGBTQ+. If your group is specifically for people who identify as "Non-Binary," for example, use that term in your name to make it clear. If you need some ideas of words you should or shouldn't use, see the glossaries from The Trevor Project and the Human Rights Campaign.
Use terminology carefully. The LGBTQ+ community is diverse, and opinions within your group may differ regarding the use of some terminology, like "queer." Be sure to get input from your group members to figure out what they're comfortable with and make sure your group name doesn't alienate anyone.
Consider your tone. Similar to the previous tip, you'll want to make sure that your group name isn't offensive to anyone in the group. If you are naming an advocacy group, in particular, your name must reflect your group's purpose and inclusiveness. A joking name like "Putin's Nightmare" might be great for a group of performers, for example, but would not work for a campus or advocacy group. Again, it is a good idea to get input from current or potential group members once you choose a name, and before you begin printing those flyers and t-shirts!