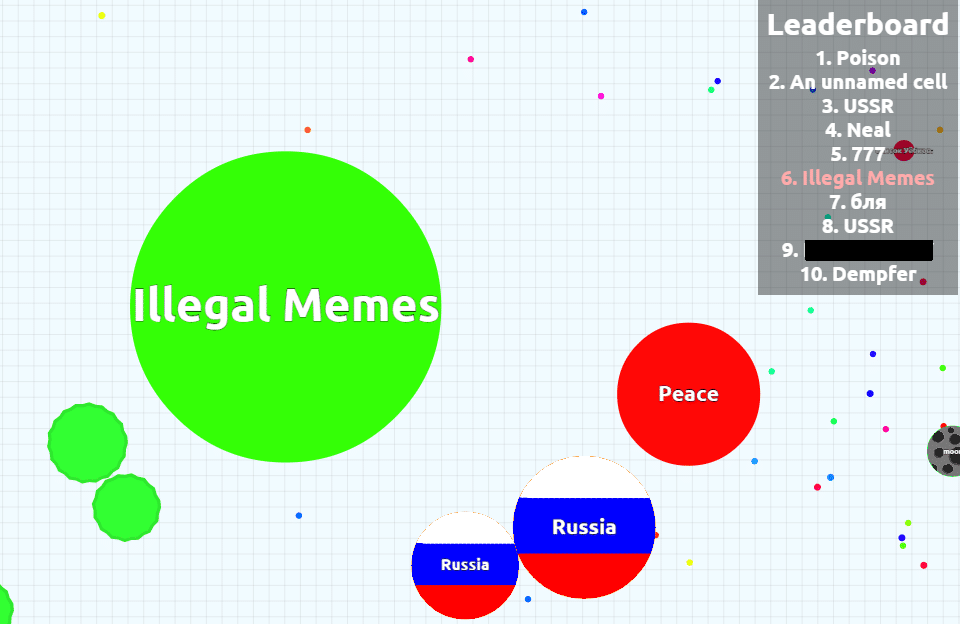 First released in April of 2015, Agar.io is a strategy game that involves moving a circular cell around the screen using your mouse and keyboard.
The goal is to eat smaller cells and avoid being eaten by larger cells.[1]
Did you know that Agar.io was inspired by an actual thing called agar?
Agar is similar to gelatin but made from algae. It's used in bacteriological cultures, canning, cosmetics, food, brewing, and even some medical applications.[2]
Agar.io seems like a simple game of cells eating cells, but it can get very competitive, especially when playing as a team/clan or in Battle Royale mode.
Make an impression on fellow players by choosing the perfect name!
We have the list of ready-to-use ideas below — plus, scroll past the list for a name generator and tips on creating your own name.
cultureclub

molecule_nation

blobs united

pelletpeople

Red Algae Association

agarallstars

Petri Posse

Agar Alliance

Multi-cell Collective

TheSplittingSquad

TheGellingAgents

Virus Patrol

Green Cell Defense

gridgeneration

TheCellCulture

Bacteria Brigade

Reign of Cells

Agar Influence

The Cell Master

Culture Control

moleculesreign

in_command

Cell Authority

Algae Power

snacksociety

The Nibbler

munchbunch

Devour Division

Gnaw, Inc.

cell snackers

Pellet League

teamW

All Cells United

gobble_gang

survivors

CellSouvenirs

The Last Vestige

agarevidence

Cell Remains

Dominators

MoleculeLegion

GridMonsters

Nibble Network

munchmatrix

TenPercentTribe

in_unison

undermycommand

cell grazers

theScarfers

GreenCellOffense

The Face Stuffers

GridMonopolizer

InfluentialRule

At the Helm

upperhand

paramount

top-notch nosh

Unsurpassed

Par_Excellence

The Superlatives

agarextraordinary

Premier Cell Stars

top-tier troupe
Agar.io Name Generator
How to Choose the Best Agar.io Name
Agar.io is a game based on cells eating other cells in a petri dish. Viruses, bacteria, algae, and other science/chemistry-related themes are featured in Agar.io.
There aren't many restrictions on what you can use for a name, so you have a lot of creative freedom with your nickname. The username field at the start of the game doesn't prohibit numbers, spaces, or special characters.
Below, find our tips for creating the best Agar.io name for yourself and/or a team:
Consider the terms you use in the game. A great place to start is to make a list of terms that you use while playing the game, or terms that are connected to the game. Once you have your list, see if any of the words would make a great name individually or try putting several together.
Look up words related to science and chemistry. A simple search of terms related to science or chemistry will bring up a vast selection of terms. Seek out the words that seem to mirror the meaning of the Agar.io game.
Use Agar.io skins. Agar.io has many programmed names that generate "skins." For example, if you use the name Earth, your "skin" or cell will populate with a graphic that looks like the planet. Names such as countries, world leaders, and animals are among the words that will give your cell's skin a graphic rather than a random color.