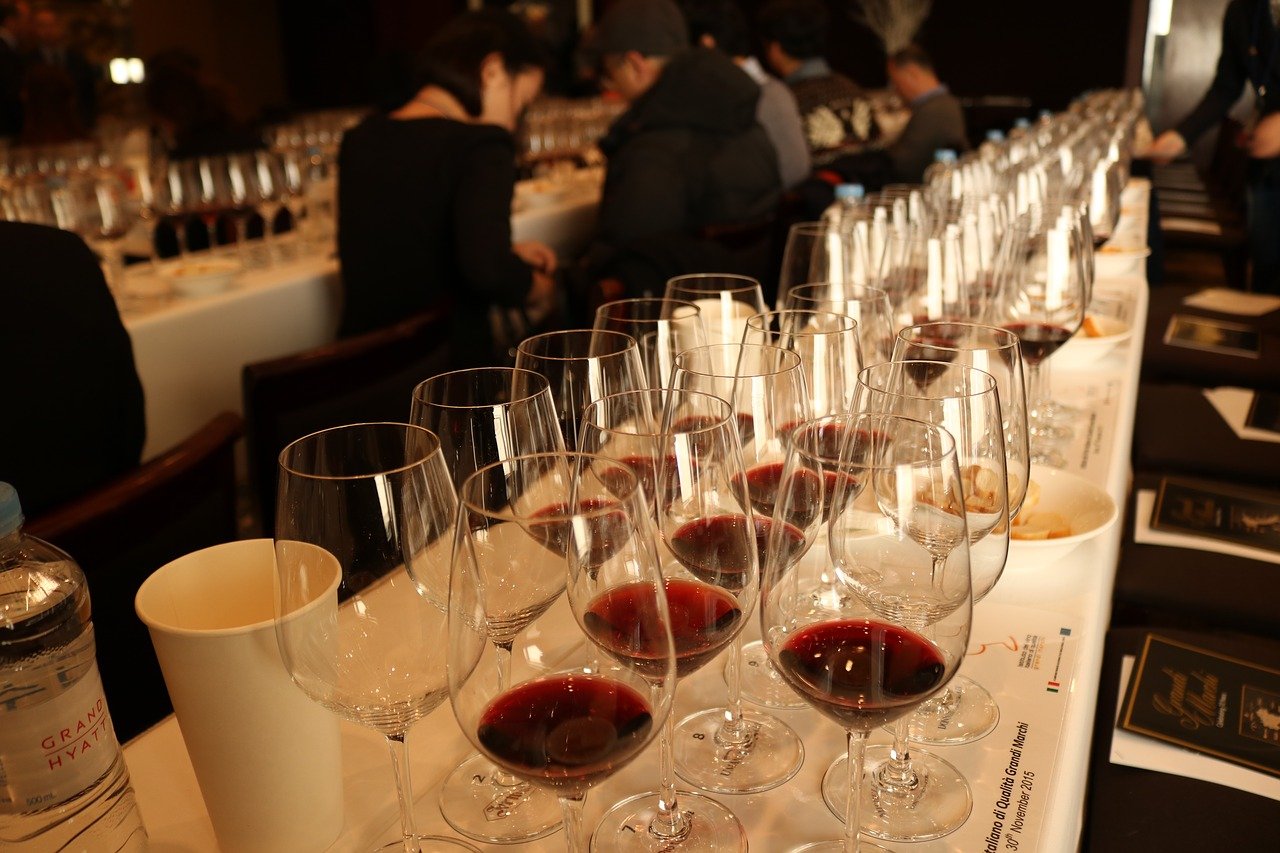 Wine is a centuries-old beverage; the oldest winery yet to be discovered dates back to around 4100 BC, and wine grapes have been grown on every continent except Antarctica![1]
If you want to become a true expert in wine, you'll need quite a lot of education and practice. In the history of the Master Sommelier Diploma, which dates back around 50 years, only about 260 people have passed the examination.[2]
Wine tasting groups are great for those with a more casual interest or who are beginning to build their knowledge as a step toward becoming a trained sommelier.
Generally, wine tasting club names are all about fun, giving your group a reminder to look forward to the time you'll spend sampling wine and enjoying each other's company.
Our list has a variety of options. We also have a group name generator, or you can use our tips following the list to create a unique wine tasting group name.
The Sipranos

Whiners & Winers[3]

Grape & Gripe[4]

Still Vertical

Hakuna Moscato

Sour Grapes[5]

The Cork Dorks

Viva la Vino[5]

Spectrum of Senses

Perfectly Paired[5]

The Cabern-Eight[3]

for an eight-member group

Purple Smiles[3]

Wine Craft[6]

Sippers & Drippers[3]

The Winosaurs

Gentle Mad Sippers[6]

Wine Not?

Sip, Sip, Hooray!

Vine Sippers

Grape Escape

Grape Expectations[3]

Life Is Grape

Wine Friends[6]

The Wine Gurus[6]

The Blanc Brigade

Bretty Nuances

The Cellar Rats

Been Corked

Merlot Matrix

Tannins Tactics

Make Us Pucker

Aroma Alliance

Vintner Nation

Cork It![5]

Balthazar Bunch

The Sauvignon Set

The Wine Explorers[4]

In the Cellar

Brix Measures

Petit Verdot Patrol

Always Quaffable

The Wine Thieves

It's Wine O'Clock

The Usual Suspects[4]

Collective Corkscrews

Unicorn Union

In the Barrel

We're Crushed

Tainted Corks

Funky Force

Attributes of Intensity

The Cork Crew

Disjointed Flavors

Falling Into Coherence

A Peculiar Vintage

Favorable Flintiness

Grippy Textures

Rosé All Day[5]

Jammy Zins

The Pinot Pals[6]

Shiraz Style

A Lush Legacy

Steely Gris

The Wine Guys[6]

Rieslings Gone Rogue

Angular & Austere

Blacktongues[4]

Fruity Floaters

The Cabernet Connection[3]

Sediment Squad

Heavenly Tasters[7]

Pseudo Sommeliers

Blanc Looks Legion

Exquisite Palates[6]

In Pour Taste

The Wine Down Club

Rieslings To Be Cheerful

You Sip I Sip

Fine Young Connoisseurs

Making Pour Choices

The Fine Wines

Just Wining Down

Pour Me Another[7]

On Cloud Wine

Reading Between the Wines

Vineyard Society

Wine Savants

Sip & Savor

Bouquet Club

Oenophile Ensemble

Wine & Dine

The Sauvignon Snobs

Sparkling Sippers

Organic Oenophiles

Cabernet Crew

Wine & Whine

Pinot Posse
Wine Tasting Group Name Generator
How to Create Your Own Wine Tasting Group Name
Wine tasting clubs range from casual groups with a social focus to serious sommelier collectives, so wine tasting group names are broad in style.
If none of the options on our list above fit your group perfectly, create a wine tasting group name using the following tips:
Think of your favorite wines. Your group may have a favorite winery, wine type, or wine brand that you can incorporate into your wine tasting group name. If the group can't decide on just one word, try out a combination of several words.
Use wine's own unique jargon. Show off your group's expertise by choosing words that relate to the creation and study of wine directly and including them in your team name. This will be easiest if your group members are long-time wine enthusiasts and can contribute ideas, but you can also look up a wine glossary online to get ideas. Some examples include "aeration" (adding oxygen), "barrique" (large oak wine barrel), or "ullage" (the empty space left after wine evaporates).
Use quotes or phrases for inspiration. Words found in wine-related quotes or sayings may make great team names. Authors and public figures ranging from the poet John Keats to the country singer Kenny Chesney have mentioned wine in their works — with a bit of searching, you can find hundreds of options! Look up some wine phrases and puns and see if you find anything that interests your group.