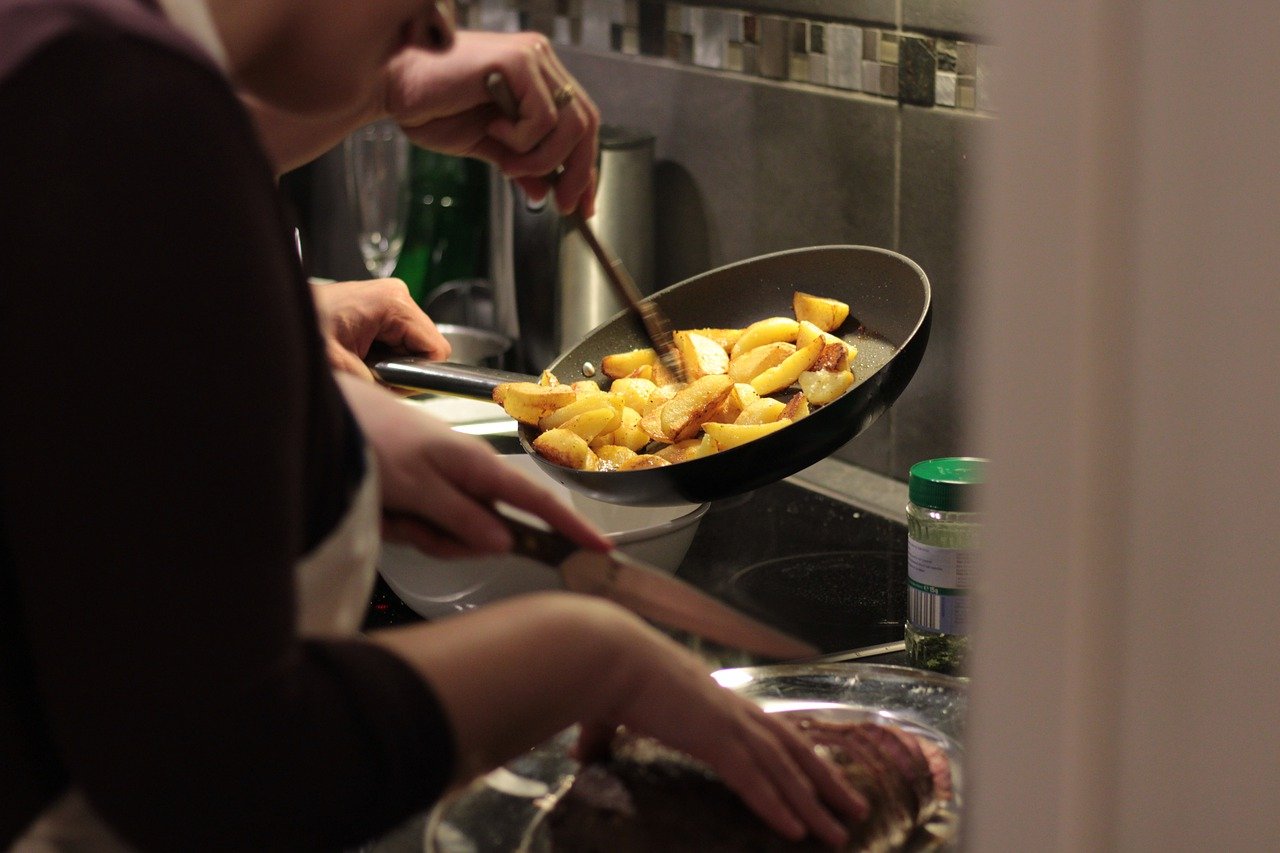 While it's possible to eat prepared or restaurant food at every meal, most people try to cook at least some meals themselves.
Before TV, people learned to cook from family, neighbors, or radio shows. The first cooking TV show was BBC Television's Cook's Night Out, premiering all the way back in 1937![1]
Food isn't just essential for life, but also an art to those who perfect their cooking skills.
Take, for example, Antonin Careme, who created architectural dishes like croquembouche, or Heston Blumenthal, who pioneered "molecular gastronomy" — focusing on the chemical processes of cooking to create new flavors and artistic plates.[2]
Whether you're a home cook or going after that Michelin star, we list a variety of food-themed names for cooking teams below.
If the perfect team name for you doesn't appear, see our team name generator for more options, or use our tips below the list to create your own cooking team name.
Pasta La Vista, Baby!

Serious Relation Chips

Lettuce Celebrate!

The Impastas

Stop, Guac, & Roll

Running Out of Thyme

The Munchies

Hopeless Ramen-tics

The Limp Briskets

Donut Give Up

Cooking Kings

Bacon Us Crazy

Pumpkin Spice Society

The Spice Girls

Mint to Be

Smartichokes

Dissing a Brie

The Moldy Cheese

Just the Wurst

Simmer!

Gettin' Figgy With It

Al Dente Derelicts

Basmati Brigade

The Thyme of Our Life

Scrambled Eggheads[3]

Let's Roll!

Freshly Chopped

One in a Melon

Boom! Roasted

Cast Iron Bandits

Kitchen Confidential: In honor of Anthony Bourdain

Flavortownies

Dicing Divas

Sizzle Squad

Culinary Crusaders

Spice Masters

A Matter of Taste[3]

On the Flipside

The Tastemakers

Must Romaine Calm

The Flaming Chefs

Paprika Patrol

Burnt Toast

Flavor Queens[3]

Whistle While We Wok

The Lentil Things

Melted Marshmallows

French Toast Nation

Roux Rebels

Team Turmeric

Weekly Meatings

The Spice Rack

The Cheftastics[3]

Woking Your Way

It's Our Jam

A Touch of Spice[3]

Flavor Feast[4]

The Ramen Girls[3]

Couscous Crew

Fermented Force

Kombucha Krazed

Braised Brigade

Parsnip Posse

Always Making Thyme

Kimchi & Bean Paste

The Whole Enchilada

A Great Matcha

We Will Wok You

Two to Mango

The Home Skillets

The Sauté Squad

The Boilers

Skillet Masters

It's Fryday!

On the Chopping Block

We've Got the Beet

The Grapeful Guild

The Biggest Flans

Plated & Posh

Lil' Sweet Teas

Getting Oolong

The Skillets

Blurred Limes

Appetizing Aces

Seared to Perfection

Kitchen Wizards

Savory Sirens

Gourmet Gang

Gastro Gurus

Recipe Rockstars

Scrumptious Squad

Gourmet Geniuses

Foodie Friends

Tasty Troupe

BBQ Bosses

Noodle Crew

The Grill Masters
Food-Themed Team Name Generator
How to Create Your Own Food-Themed Team Name
Create your own food/cooking team name with the following tips:
Start with things that you know. List types of foods, cooking techniques, and any other food-related knowledge you have that may work for a food-themed team name. You can name the team after your favorite thing to cook, the first technique you learned, or a dish that inspires you. If you are a novice when it comes to food or have trouble creating your list, a simple online search for cooking methods or recipes will bring up a vast amount of information.
Search vintage cooking terms. If you're interested in a less common food-themed team name, researching old-fashioned cooking terms, vintage cookware, and old recipes may uncover some lesser-known phrases that would make a unique team name. This can provide funny team names, too, since some vintage recipes seem strange to the modern palate.
Use cooking techniques and descriptions. You may find an interesting word or phrase if you browse through the methods and explanations of how to perform the various processes in cooking. If you and your team are skilled at a particular technique, you may want to use it as your food-themed team name's focus.