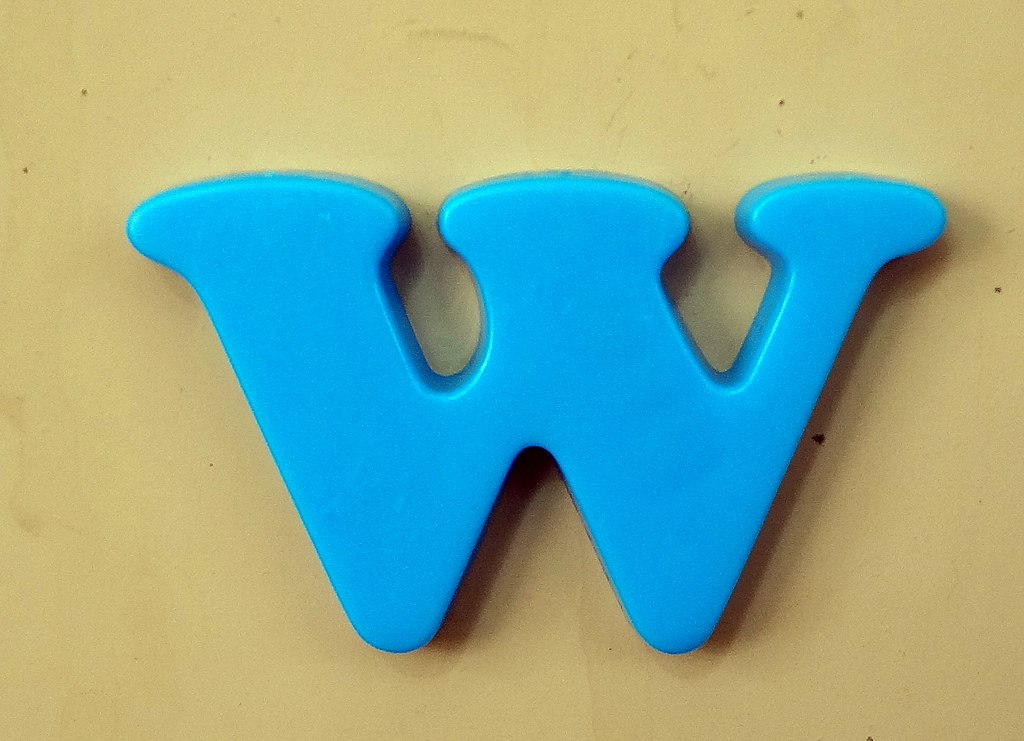 Originally written as "uu"[1] — literally a double U — the W we know first emerged in printing in the 1700s.[2]
Many of our letters derive from ancient languages; W was a later addition to our alphabet.
Though the letter's history is comparatively recent, W isn't one of the least-used letters of the alphabet! It's six times more common than the least-used letter, Q.[3]
Team names that start with W can be as funny or serious as your team prefers — as long as they begin with the letter W!
We have more than 70 options below, or if you want to create your own team name, we offer some tips below the list.
Wolverines[4]

Wild Things[4]

Wildcats & Willows

Woodchucks & Weasels

Wallabies[4]

Whatchamacallit

Wolf Pack[4]

Whale Watchers

Whirlwind[4]

Watermelon Memories

Wild Chamomile

Watermelon Blasters[4]

Wednesday Wizards

Whereabouts Known

Wild Angels[4]

Wild Strawberries

Waverunners[4]

Wanderers

Winging It

Watchdog Derelicts

Waterfall Mist

Watercolor Roses

Whitecaps[5]

Windy City Ways

Whirlybirds

Wallflowers

War Eagles[6]

Widget Wranglers

Watchmen[5]

Wrestler's Wrath

Wasabi Windfall

Witches[5]

Wireless Winks

Warped Windshields

Winterhawks[6]

Waikiki Wave Front

Way Station Travelers

Water Cooler Tales

West Coast Crew

Wild Monarchs[6]

Wildflower Girls

Washer Fluid

Web Surfers

Waterproof

Wholesome

Windsor Rose

Winter Skies

Wintergreen Wizards

Wisteria Wishes

Wishing Well Guild

Wacky Waffles

Wind Warriors

Wild Blue Yonder

Wasp Coalition

Wild Wasabi

Weatherproof

Wall Street Army

Wacky Waves

Wishing on a Star

Woolly Wolves

Wisdom Writers

Walk in Whimsy

Waiting

Worldwide Weirdos

Whippersnappers

Well-Read Legacy

Wombat Circle

Whisperers

Wisdom Wars

Waste Not Want Not

Weekend Wishes
"W" Team Name Generator
How to Create a Great Team Name Starting With W
Creating your own team name that starts with W can be a fun activity for your whole group and ensure that you find a perfect, unique name to set your team apart.
Begin brainstorming or narrow down your options using our tips:
Start by making a list of things that start with W. List anything you can think of, including animals, colors, and flowers. Once you have your list, talk it over with your group and see if there are any collective favorites that your group members share. For example, if everyone in the group loves wombats, you can include that in your name. If no particular favorites stand out, try having each member create a name using the words on the list and then take a vote!
Does your group have an activity that starts with W? For example, your group may be getting together to fundraise by hosting a car wash. By taking the word "wash" and adding a descriptive word or two to form a short phrase, you can create a great team name.
Personalize your team name. The name of your city or town, school, church, or any other identifying word or phrase that will make your team name unique can be used in your team name. Perhaps a group member even has a first or last name starting with W. Depending on the size of your group, you may find a way to combine each member's name to create a one-of-a-kind team name.