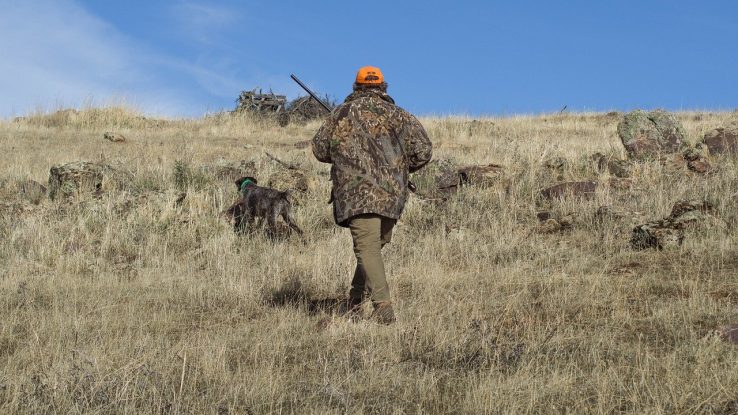 Did you know that over 100 million people in the U.S. participate in wildlife activities like hunting and fishing?[1] That's a lot of hunting clubs!
While South Dakota, Wyoming, and Montana have the largest percentage of residents with hunting licenses, you can find hunters (and hunting groups) in all 50 states.[2]
Maybe you love to hunt for turkeys, deer, wild boar, ducks, or some other animal. Or, perhaps you don't have much luck in the field but love to spend time in the great outdoors!
Regardless, finding a great hunting team, club, or camp name can foster a stronger sense of community between you and your outdoor pals.
Choose one of the 70+ options on our list below, or scroll past the list for tips on how to create your own team names!
Buckweiser[3]
Open Season[3]
Blind Luck[4]
Buck, Buck, Moose[3]
Lucky Strikes
Tree Hitters[5]
Hard Luck Hunting Club[6]
One Hit
Team Smoke[3]
Blood Trail Brotherhood[7]
One-Hit Drops
Team Bloodtrail[8]
Heritage Hunters[8]
Young Bucks[9]
Tag Out[7]
The Harmless Hunters[10]
Sharp Marks
Whitetail Militia[8]
Got Game?[3]
Buck Bullies[7]
Bent Barrel Club[11]
Tree Huggers[8]
The Backstrap Boys[8]
The Thwack Pack[7]
Rack Attack[10]
Happy Hunters[3]
[City/County] Sportsman's Club
Soggy Bottoms Hunting Club[11]
Venison Villains[8]
Alien Antler Farm
Tagout and Dragout[8]
Deer Snipers[5]
Sure Marks
Big Bucks[3]
Thwackers[7]
Tree Ninjas[8]
Bros Before Does[12]
Pigtrail Hunting Club[10]
Lead and Feather[6]
Camo Kings[3]
Just Passin Thru[7]
[Family Name] Hunting Club[11]
Crazy Mule Hunting Club[6]
Team Marksmen[5]
Antler Fanatics
The .44 Bunch[6]
Buck Magnets[13]
Beers and Deers[12]
The Great Escape[10]
Oddfellows Hunt Club[13]
[City/County] Hunting Club[11]
Buck Wild[3]
Half-Moon Hunt Club[6]
Busted Antler Hunting Club[11]
Buckrun Hunting Club[6]
Wall Hangers[5]
Fowl Play[3]
Bucks in Trucks
Precision Outdoorsmen[13]
The Eagle's Nest[11]
Doe Nation[12]
Wings and Whitetails[6]
Camp Chaos[4]
The Outpost[4]
The Buck Snort Resort[6]
Old Codger Camp[11]
Bucks R Us[12]
Wildlife[10]
Bang-At-Em[11]
Buckeyes[3]
Cash and Carry Club[11]
Deer Slayers[5]
Camo Queens[3]
Deer Camp Mafia[5]
Aim for Game[3]
Deers in the Headlights[3]
Born to Hunt[3]
How to Create Great Hunting Group Name Ideas
Keep the following tips in mind when brainstorming with your team to find an excellent hunting group name:
Think of how you like to hunt. Do you have a favorite animal to hunt or a particular weapon of choice? Some hunters love it all, from deer to ducks, but all hunters have their favorites. Use your hunting experiences to inform your team name. For example, a group that loves bow hunting might want to use words like "Bow," "Arrow," "Archer," or "Archery" in their team name.
Get inspiration from your hunting grounds. Perhaps you and your buddies only hunt near a particular lake, or you have a favorite spot near a state landmark. Your name can take inspiration from where you hunt — not just by incorporating place names but by referencing features of the land. For example, if you hunt in an area with many maple trees, you might go for a name like Camp Maple or Maple Tree Hunting Club.
Use inside jokes! Funny names are always great for mood-boosting and community-building. Inside jokes might not make a lot of sense to those outside of your team, but they'll make your group members laugh and remind you of all of the great times you've had together.