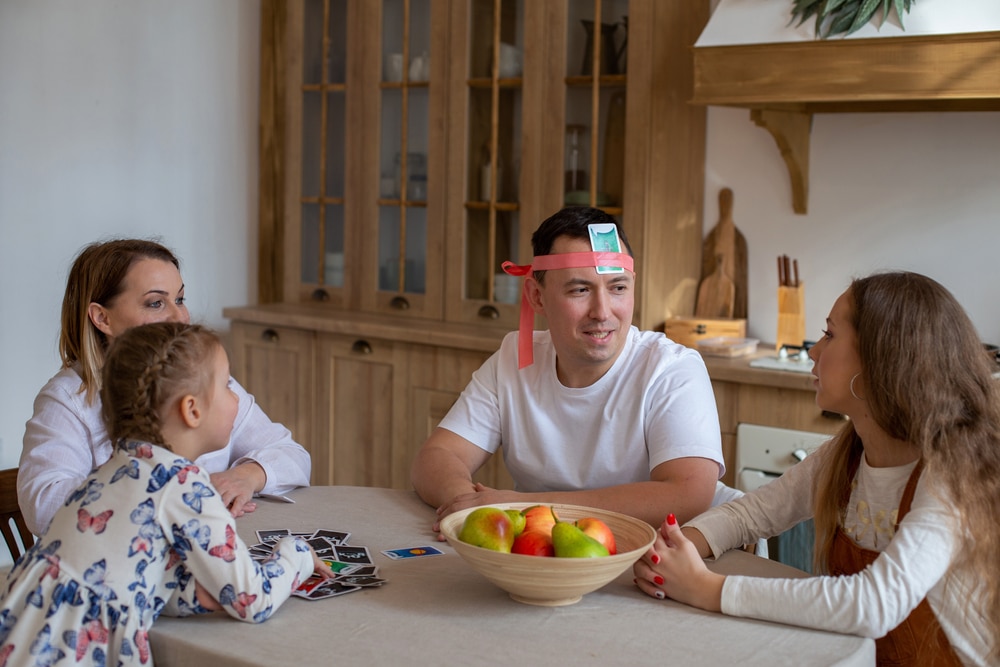 Gathering with your family to play board games, Family Feud, or charades is a wonderful way to spend an evening.
It's not only fun but beneficial — games can help build strategic thinking and problem solving, as well as social skills.[1]
For kids, playing games regularly can even lead to better grades by refining their math, comparison, and estimation skills.[2]
Family-favorite games include everything from classics like Clue, Connect 4, and Monopoly to more recent inventions like Exploding Kittens and Spontuneous.[3]
To add a competitive edge and extra fun to your family game night, have each team choose a catchy name! Or, adapt these names for your family group chat.
We have ideas for whole-family teams, siblings, and cousins below. Plus, you can scroll below the list to see our tips for creating your own great team name.
Whole Family
All In the Family

reference to the 1970s TV Show

My People

Full/Fuller House

reference to the TV shows

Birds of a Feather[4]

The Madhouse

The Family

Family Club

The [Last Name] Bunch

reference to The Brady Bunch

[Last Name] Dynasty

There's Something in the Genetics

FAM-iliar Faces

My Favorite Headaches

Game of Phones

a play on the TV show Game of Thrones

FamBam[5]

Genetics at Work

Family Knots

Family Board Members

My Gene Pool[6]

Our Tribe

Where My Heart Is

Family Time

Generation Gap

Fantastic Family

Genes at Work[5]

Cool Family

We Are Family

reference to the Sister Sledge song

Family Matters

reference to the 1990s TV Show

We Are One

Circle of Trust

Family Ties

reference to the 1980s TV show

Life Roots[7]

Happy Family

Modern Family

reference to the TV Show

The Insoluble Fraction[5]

ABC Family

reference to the TV network now known as Freeform

Kinfolk[6]

Happy House

Family Secrets

Rocking Family

Strong Ties

Blood Relatives[7]

My Wife and Kids

reference to the early 2000s TV Show

Home Sweet Home

The Love Is Real

Rocking We[8]

My Peeps[6]

Family First

No Diving in the Gene Pool

Reasons I Can't Sleep

The Brooding Brood

The Meaning of Family

Folk and Kin[9]

Married With Children

reference to the 1980s/1990s TV Show

HouseFull[6]

Laugh Factory

Dino-Mite Family

Forever Fam

Irritating Family[6]

Forever Dynasty

Through Thick & Thin[4]

Lava My Family

Close House[7]

Nutty Peeps[6]

Bloodline

Connect the Dots[4]

Family Knot

Mom's the Boss[9]

United We Stand[5]

Best Family Ever

Flock Together[4]

Mad House

Mama Bear and Cubs

The Godfather and His Advisors[9]

Our Happy Clan[6]

Good Times

Quizteama Aguilera

a play on the singer Christina Aguilera

Off the Charts Smarts

The Herd[4]

Fun Fam

The Family Fortune

Home Team
Siblings/Cousins
Sassy Circle

Sherlock Homies

a play on Sherlock Holmes

Wisecrackers

Soul Sisters

Built-In Besties

Childhood Roommates

Family Heirlooms

The Kids Table

Sister Act

reference to the 1992 film

The Misfits

Don't Show Mom

The Progeny

Golden Girls

reference to the TV Show

Sister & Sister[6]

The Sibs

Sibling Dynasty

The Heirs

The Branches[6]

Sibling Rivalry

World of Cousins[6]

Brotherly Love

Fam by Blood, Friends by Choice

The Descendants

The Chatty Ones[6]

The Rowdy Ones

Lifetime Bonding[6]

Family Reunion Crashers

Sisterhood of the Traveling Texts

a play on The Sisterhood of the Traveling Pants

The Chamber of Secrets

reference to the book Harry Potter and the Chamber of Secrets

The Weekenders

The [Last Name] 5

reference to the music group The Jackson 5

Good Vibes[6]

Sibling Love

What Our Parents Don't Know

The Good Ole Times

Berry Best Cousins

Olive My Cousins

a play on the phrase "I love my cousins"

What's Up, Cuz?

Family Glow[5]

The Weird Ones

Sibling Signals[6]

Family Clowns

Ladies and the Tramps

reference to the 1955 film Lady and the Tramp

Feisty Females

Best Friends Forever

Cluster of Cool[8]

Sons of Chuck Norris

Super Family[5]

Universally Challenged

A League of Our Own

a play on the 1992 film A League of Their Own

Les Quizerables

a play on the musical Les Miserables

Whaddup Cuz[4]

America's Best Chance

Colony of Weirdos[4]

The Next Generation

Heirs to the Throne
Family Team Name Generator
How to Create a Great Family Team Name
As you can see in our list above, the best family team names include a couple of elements: family- or friend-related words and references that everyone in the room will understand.
Consider the following tips if you decide to create your own family team name:
Use your last name… or don't.
Using your last name as an element of your team name is a simple and obvious way to come up with a name.
If your last name sounds like another word, you share it with a famous historical figure, etc., you can easily come up with puns or wordplay inspired by it.
However, because this tip is so obvious, you may also want to do the opposite! For a truly unique team name, avoid using your last name altogether — especially if there are a lot of teams that might pick a similar name, such as at a family reunion.
Consider who is in your group.
Are you on a team with your parents and siblings? Or perhaps you're paired with your siblings only, or cousins?
Considering the people in your group can help guide your team name if you choose to include direct reference's to the group's relationship, like "fam," "cuz," or "sisters."
Call on pop culture.
Is there a sitcom you used to watch with your family? A favorite movie that you and your siblings have watched dozens of times?
You can get inspiration from the title, character names, or famous quotes for your team name.
This can be particularly fun if you have teams divided along generational lines — you'll quickly see the differences in favorite films, TV shows, and music!