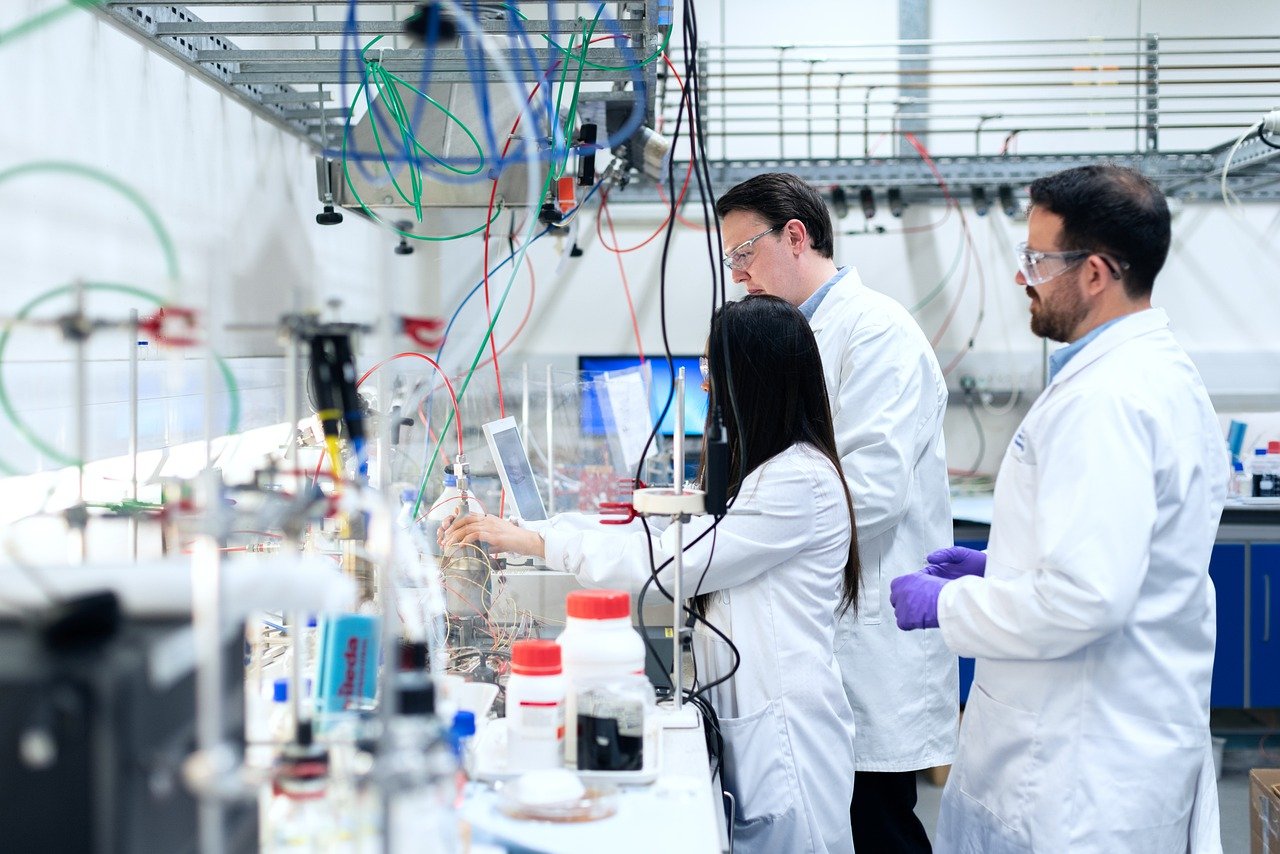 Everything is made up of chemicals, from the food we eat to the medicines we take to the cleaning products we use to our own bodies![1]
Needless to say, the study of chemistry is critical to daily life and understanding our world.
Though the study of material properties like distillation and evaporation can be traced back to around 800 CE,[2][3] Antoine Lavoisier is often considered the "father of chemistry." After all, he quite literally wrote the book on it — 1787's "Elements of Chemistry."[2]
Our list of chemistry-themed names below features both light-hearted and professional team names.
If you don't find a team name on our list that fits your criteria, we have a name generator and some useful tips to assist you in creating your own chemistry-themed name following the list.
The Atoms Family

We're Sulfuring

Amino Amigos

Exothermic Reactions

We Don't Zinc So!

The Transformations

Can't Curium

Absolute Zeroes

Solutions Squad

Matter Matrix

GeNiUS!

Chemistry NINJAs

Radioactive Isotopes

Electro-Charged

Beyond Limits

Boron Brigade

Reactants

The Splice Squad

Delocalized Electrons

Reactive Materials

Nucleotides

Forms of Matter

A Mean O Acids

Polarized

Can't Helium

Atoms & Ions

Oxidants Happen

In Our Element

Positively Charged

The Compounds

Organic/Inorganic

Let Us Atom

Irreversible Reactions

Experimental Measures

ThInKers

Cautious Capers

Chemistry Stinks

Subatomic Particles

Positive Protons

The Test Tubes

Positive Reactors

Radioactive

Negative Electricity

Periodically NErDy

The Alchemists

Keeping an Ion

We Argon

Molecular Activity

Conventional Currents

Placebo Effects

Atomic Properties

No Reactions

Overreactors

Super Scientific

Big Reactions

Adjacent Atoms

Chemical Potential

Trending Alchemists

Sodium Funny Force

InSPIRe

Periodic Trends

Test Tube Traders

Nuclei Gnomes

The Lab Rats

Molecular Mavericks

The Reactors

Acid Avengers

The Nucleonauts

Orbital Outsiders

Electron Elites

Quantum Quarks

Isotope Islanders

The Atoms

The Formulae

The Molecules

The Crystallites

The Covalents

The Synthesizers

The Kinetics
Chemistry Group Name Generator
How to Create a Great Chemistry Group Name
Creating a great chemistry group name may be as easy as looking over your work if your job or coursework is chemistry-related.
If the study of chemistry is a hobby for you, words or phrases may naturally come to mind for perfect names.
Here are some tips to get the ideas flowing:
Decide what type of group name you want. When it comes to finding a great team name, it helps to keep in mind if you are going for humor or something more work-appropriate. A trivia group made of chemists will probably want to use something funny or punny, while a lab group conducting research will want to be sure to keep its name somewhat professional.
Think about chemistry-related terms you use on a daily basis. You may find a unique way to use a more common chemistry term for your team name. Alternately, you may find really obscure and unknown words that work perfectly on their own and show off your expertise.
Research chemistry terms and look up definitions. Sometimes the slight tweaking of a word or definition turns into a great chemistry-related team name.
Investigate experts in the field. You may find inspiration in a famous chemist's name or research.
Check out the periodic table. One of the easiest ways to create a chemistry team name is to go back to the basics! Create fun words using the periodic table of elements — one of the first things you learn about as a budding scientist. (Some examples can be found in our list above).