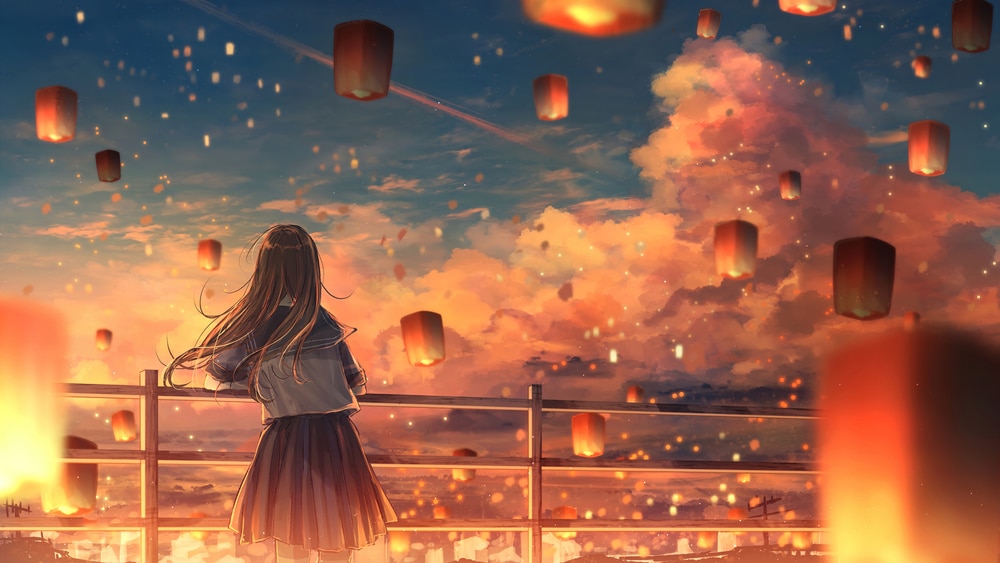 First introduced around 1917 with a simple, chalk-based short film by Shimokawa Oten,[1] anime has grown into an enormously popular art form that reaches far beyond Japan's borders.
In the 21st century, it's estimated that anime makes up more than half of all of the world's animation![2]
Japan has more than 400 major anime studios, which together cover the full scope of genres, from fantasy to thrillers to comedy.[3]
Whether creating a guild/clan name for gaming or choosing a team name for a different type of activity, anime can provide plenty of inspiration.
Below, we have the list of anime group name ideas.
Scroll past the list for our name generator and tips on creating your own great anime guild or group name.
The Phantom Troupe[4]

Hunter X Hunter

The Silent Voices

The Espada[4]

Bleach

Hunter Association[5]

The Survey Corps[6]

Attack on Titan

The League of Villains[4]

My Hero Academia

Akatsuki Collective[4]

Naruto

The Straw Hat Pirates[6]

One Piece

Band of the Hawk[7]

Berskerk

Honorable Senseis

teachers

NERV[5]

The Genki Group

cheerful

Guerilla Group Zero

CP9[4]

One Piece

Class 3-E[7]

Assassination Classroom

The Tokyo Ghouls

Tokyo Ghoul

Z Warriors[7]

Dragonball Z

Megane Archetypes

boys with glasses

Alchemists[5]

Night Raid[5]

00 Cyborgs[7]

Cyborg 009

Band of Seven[4]

InuYasha

Anime Otakus

superfans

Outside the System

Psycho-Pass

Academia Heroes

My Hero Academia

Dark and Vicious Forces

From the New World

The Burial Agency[5]

Ghouls of Tokyo

Fending Off Parasites

With Geass Control

Code Geass

Team Totoro

My Neighbor Totoro

Black Order

D.Gray-man

Team Dragon Ball Z

Kokoro Club

heart

The Soul Reapers[7]

Bleach

One Piece Adventurers

The Akatsuki

Naruto

Team Rocket[6]

Pokemon

Collecting New Swords

Katanagatari

The Titan Attackers

The Ghibli Group

Occult Research Club[5]

High School DxD

Balanced on a Knife-Edge

Overlord

When Stars Align

Paranormal Liberation Front[6]

My Hero Academia

Senpai Mentors

upperclassmen

Considered Kawaii

cute

One-Punch Men

One-Punch Man

Susuwatari Soot Sprites

My Neighbor Totoro

Sumimasen Squad

sorry

Deviant Blades Collective

Katanagatari

The Sugoi Squad

exceptional

Spunky Genki Set

energetic

Pursuit of Immortality

Baccano!

Rakugo to Survive

Showa Genroku Rakugo Shinju

Within Multiple Timelines

High Ritual of Chaos[8]

Point of No Return[8]

Disillusioned With the System

Psycho-Pass

Moving Castle Matrix

Howl's Moving Castle

Kiki's Krew

Kiki's Delivery Service

Shadow Blades

Naruto

The Kohai Krew

underclassmen

Slime Reincarnated

The Chunibyo Club

delusions of grandeur

Kemonomimi Kollective

animal features

Doujinshi People

superfans

Renowned Rakugo Performers

Showa Genroku Rakugo Shinju

Stuck in the Abyss

The Elric Brotherhood

Fullmetal Alchemist: Brotherhood

Zero's Freedom Fighters

Code Geass

The Never Learning Network

Ganbatte! Force

good luck

Catastrophe-Level Storm Dragons

That Time I Got Reincarnated as a Slime

Just Like Naruto

Past Problems Solvers

From the New World

Into a Parallel World

Spirited Away Squad

The Holy Knights

The Seven Deadly Sins

Invocation[8]

Godhand[9]

Berskerk

The Loli League

innocent

The Mecha Matrix

super robots

Meganekko Frames

girls with glasses

Alchemists in Full Metal

Overpowered & Overly Cautious

Salarymen and Astronauts

Space Brothers

The Monster League

In the Sky Castle

Castle In The Sky

Catbus Passengers

My Neighbor Totoro

The Dark Guild

Fairy Tail

Magic Notebook Network

Death Note

Moshi Moshi, Moshi Moshi

excuse me

The Chibi Crew

small

Content With Monotonous Life

That Time I Got Reincarnated as a Slime

Cosplay Collective

costumes

Interrupted Journeys

Michiko & Hatchin

Hatchin's Voices of Reason

Michiko & Hatchin

Sacrament of Secrets[8]

Anime Underground

Born With Magic Powers

The Rakugo Rivals

Showa Genroku Rakugo Shinju

The Homunculi[4]

Fullmetal Alchemist

Former Yakuza Members

Showa Genroku Rakugo Shinju

Penguin Drum Finders

Mawaru Penguindrum

Penguin Hat Revival

Mawaru Penguindrum

Jotun[8]

Norse giant with superhuman strength

Descent Into Power

Tracking Multiple Timelines

Steins; Gate

Microwaveable Messages

Steins; Gate

System Truth-Seekers

Psycho-Pass

SOS Brigade[5]

Ruthless Slayer Stoppers

Monster

Navigating the Abyss

Made In Abyss

Riko & Reg Abyss League

Made In Abyss

Cats and Kawamotos

March Comes In Like A Lion

Elysium

Angel Beats

Celestial Knights

Saint Seiya

Phantom Thieves

Persona 5

Gurren Brigade

Gurren Lagann

The Phantomhive

Black Butler
Anime Group Name Generator
How to Create a Great Anime Group Name
As noted above, commercial Japanese animation has been around since the early 1900s, and there are over 400 studios in the anime industry. That's a ton of inspiration to pull group name ideas from — over 100 years and countless animated works!
You're spoiled for choice in creating your group name, but we have some tips to help you narrow down that plethora of options.
You might want to start by making a list of some of your favorite anime. While taking inspiration from the title itself might not be as original as you'd like, by creating a list, you can then think of story elements, dialogue, or characters to inspire your team name.
There are many examples of this on our list, from Studio Ghibli productions like My Neighbor Totoro to more recent works like That Time I Got Reincarnated as a Slime.
You might also consider making a parody of or altering the name of an anime you're familiar with. Using Fullmetal Alchemist as an example, you could substitute either word for any number of replacements — from something silly like "Full Pizza Alchemists" or "Fullmetal Kittens" to an intimidating name like "Blood Alchemists."
With our list of ideas and our tips for creating your own name, you should be able to come up with multiple possibilities for your group.
But if you're really stumped for ideas, you can always turn to an online name generator — which lets you create an anime-inspired team name in just a few seconds.