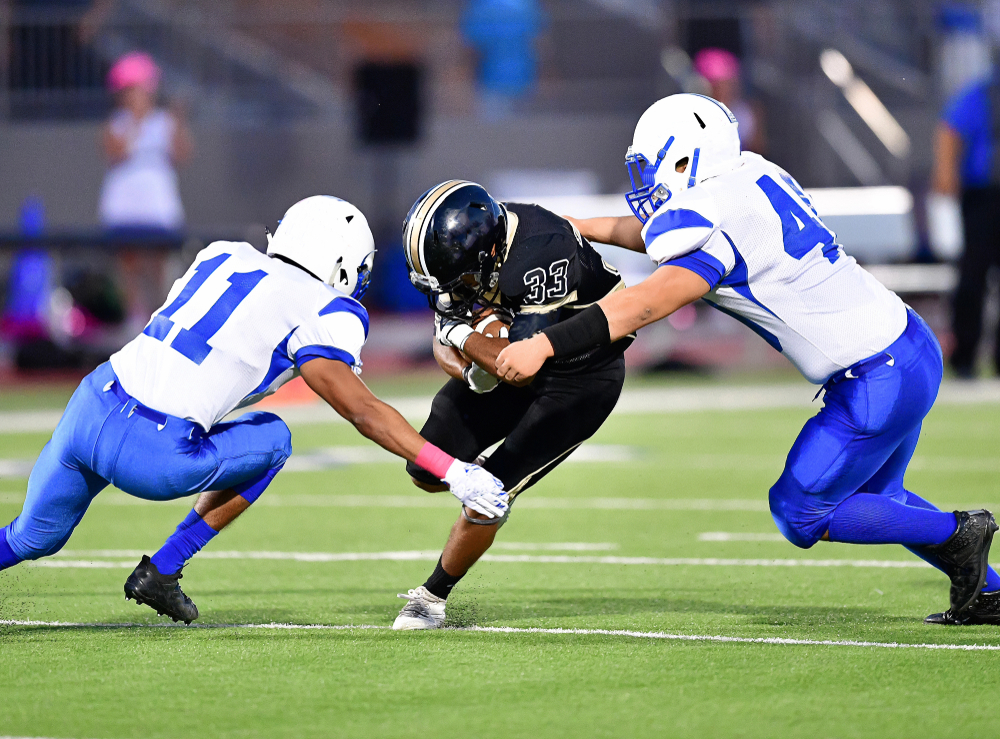 Sports and medicine are intertwined to a degree that not many people realize. The field of sports medicine serves not just professional and student-athletes but also regular people who work in physical jobs or enjoy active hobbies.[1]
Though some think of sports medicine as a modern specialization of the medical field, it dates back as early as the fifth century! In ancient Greece, skilled physicians treated a wide variety of athletic injuries during and after the Olympics.[2]
Even outside of sports medicine, there's a connection between the two fields. Like just about everyone, medical professionals love sports — and some professional athletes love medicine!
Laurent Duvernay-Tardif, Jean-Philippe Darche, James Bradley, Myron Rolle, and NFL Hall-of-Famer Dan Fortmann are just a few football players who have pursued second careers in the medical field.[3]
If your own medicine-to-sports connection is simply that you work or study in the medical field and love fantasy football, we have more than 40 team name ideas for you in the list below.
Scroll past the list for tips to help you create your own medical fantasy football names!
Hemoglobin Trotters[4]

Rangers of Motion[5]

Upright and Smiling[6]

Acute Touchdowns

The Beta-Blockers[7]

Touchdown Syndrome[4]

Multiple Scorosis[8]

The I-V Leaguers[6]

Lord Have MRSA[9]

Vital Signs[10]

Punt to Medicine[9]

Surgical Instruments[6]

Team Triage[6]

The ACE Inhibitors[11]

The Vaccines[10]

Septic Shockers[9]

Hungry Hungry HIPAAs[8]

50 Shades of Grey Matter[6]

Crash Carts[6]

Chronic Scorers

The Incubators[10]

Clamp and Sponge Brigade[5]

Super Scrubs[6]

Fighting Pharmers[11]

for a pharmacist's team

Pub Med[6]

Positive Prognosis

Making the Rounds[7]

The Lifesavers[6]

Reflex Checkers[6]

No Pain No Gain[6]

Code Blue[6]

The Splints[12]

Doctors in the Endzone

a play on "Angels in the Outfield"

Hippocamped[4]

The Defibrillators[12]

HyperHextended[11]

The Stretchers[12]

The Crash Carts

Chronic Lyme Truthers[9]

CephaloSCORIN[11]

a play on cephalosporins

DenvAir Bronchograms[9]
How to Create Your Own Medical Fantasy Football Team Names
If none of the options on our list are perfect for you, use these tips to create your own medical fantasy football team names:
Choose a name related to your specialty or unique interests. What type of medicine do you practice or study? For example, are you specializing in pathology, or do you have an interest in the history of battlefield medicine? Choose a name specific to what you love most in medicine, so it really reflects you and is unique from some of the more well-known medical fantasy football team name options.

Make puns based on your favorite players' names. This is common among all types of fantasy football team names, but by combining a player's name with medical terminology, you can create a funny name that fits your niche.
Crack open your medical reference books. You can get inspiration for your name from interesting case studies, diseases, and procedures. Choose something obscure that will puzzle your most knowledgeable colleagues, or go for a reference even the average patient would understand.