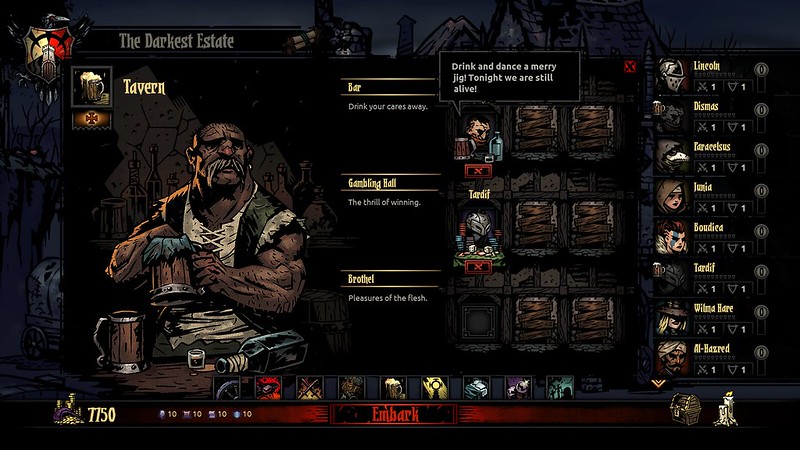 Darkest Dungeon takes you into the depths of the Earth, 500 feet below the surface, where a variety of threats await you and your team as you crawl through the dungeon.
Uniquely, this game not only pits you up against monsters but also against your own mentality, requiring your team to overcome fear, paranoia, and other struggles in order to succeed.[1]
Darkest Dungeon sold more than five million copies within its first few years of release, cementing its place as a notable RPG.[2]
It's also notoriously difficult to finish due to its large amount of characters (each with their own quirks), incorporation of mental strength along with physical strength, minimal healer capabilities, and tough-to-eradicate enemies.[3]
Darkest Dungeon team names can reflect the dark, psychological mood of the game or play up humor instead.
However you want your Darkest Dungeon team name to sound, we have the list of ready-to-use options, plus a team name generator.
If you'd rather create a Darkest Dungeon team name of your own, we offer naming tips beneath the list.
Intense Karma

Gothic Guild

In the Courtyard

Ancestor's Alliance

Rogue Agency

Perilous Posse

Relentless Assaults

The Flawed Heroes

Derelicts of Demise

Afflictions Abound

Paranoia Patrol

The Diabolical Ones

Emotional Tolls

The Shell Shocked Set

Crimson Court Crew

Awash in Blood

Burden Bearers

Devious & Complex

Breaking the Shields

Piercing Armor

Stealth Slitherers

Alien Origins

On the Outskirts

An Endless Quest

Comet Shard Squad

Monsters & Heroes

Jester's Journey

Dungeon Crawlers

Band of Heroes

Threat Destroyers

Annihilators

Exterminators

Crypt Adventurers

Twisted Forest Force

Not Afraid

Obliterating Fear

Combat Pit Posse

Extinguish the Chaos

Faction of Foes

Hamlet Alliance

Seeking a Fortune

The War Dogs

With Iron Fists

Houndmasters Howls

In the Crypt

Night of Dark Souls

The Fallen

Madness in Metal

Bleeding Through Healing

Heinous & Cursed

The Marauders
Darkest Dungeon Team Name Generator
How to Create Your Own Darkest Dungeon Team Name
Create your own Darkest Dungeon team name with the following tips:
Use game terminology. You might already know a lot about the game, but if you're a beginner or need some reminders, search Darkest Dungeon websites for terms that would make or inspire a neat team name. Think out of the box — try changing a word or phrase slightly by adding a word to it or changing the spelling to make it unique.
Search synonyms. Synonyms for words like "darkness," "dungeon," and "chaos" can make excellent team names. Use one of these words alone or build a phrase around it for an appropriately moody team name. Think of words and phrases that are typically used in relation to fear and destruction for additional possibilities.
Create your team name together. Inclusivity is also a good rule of thumb when choosing a team name for any game or occasion. Getting input from all of your team members gives everyone a chance to make suggestions and approve the final team name choice. Plus, your teammates might have ideas you wouldn't have thought of otherwise!
Choose a unique and catchy name. Your team name should set you apart and be memorable — keep those traits in mind when choosing between a list of potential team names or brainstorming ideas.