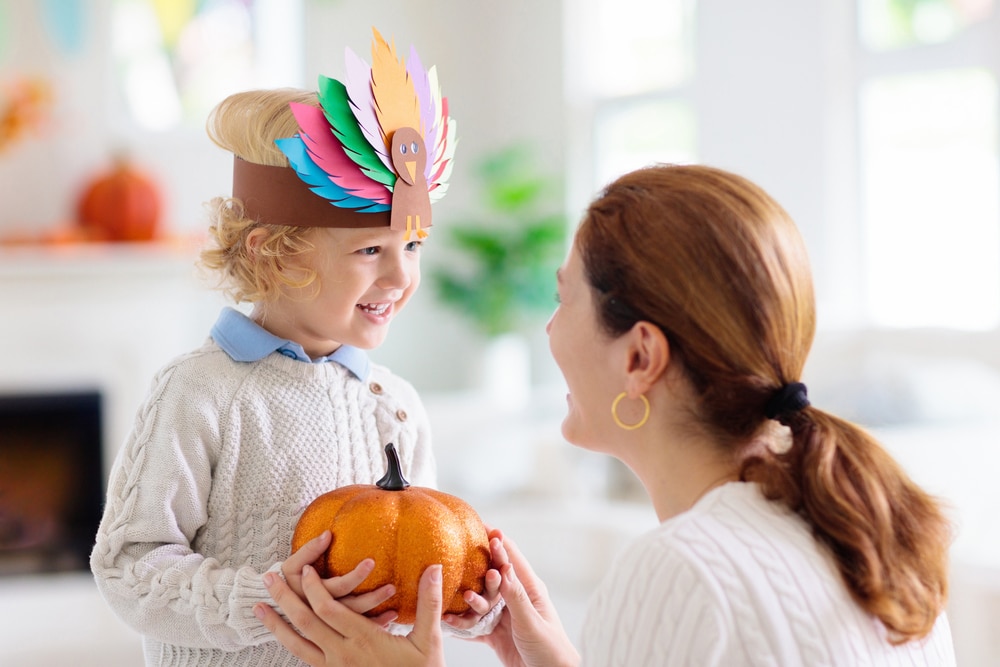 Thanksgiving has been an annual American tradition since 1789 when George Washington decided there should be a day of thanks celebrating the new Constitution and the Revolutionary War's end.[1]
However, Thanksgiving hasn't always looked like it does now.
Football became a part of Thanksgiving day around the 1890s, canned cranberry sauce wasn't introduced until 1912, and the presidents didn't begin pardoning turkeys until the 1940s![1]
Though turkey, stuffing, and mashed potatoes still appear on most dinner tables, people now celebrate Thanksgiving with a wide variety of activities.
Thanksgiving team names can be geared toward Turkey Trot runners, holiday-themed trivia competitions, or "Friendsgiving" festivities.
We have ideas to suit any Thanksgiving team below! If you'd like to create your own Thanksgiving team name, we also share tips to help you find the perfect fit.
General
Feast Force

Pumpkin Spice Society

Leftovers Legion

The Corn Cobs

Sweet Potato Society

Keep Calm & Eat On[2]

Turkey Jerky[2]

All About That Baste[2]

Lil' Giblets[2]

Yam Clan[2]

Dressed for Dinner

Gourds Guild

Plymouth, Let's Rock!

Overstuffed

Thankful Hearts

Potato Mashers

Butter Brigade

Whipped Cream Warriors

T-Day Buffet

Harvest Helpers

Blessed

Kin Parade

Thankful

The Candied Yams

Tradition Keepers

Football Fanatics

Tom Turkey's Tribe

Here for the Pie

#FEASTMODE[2]

The Root Veggies

Togetherness

It Gets Butter

Hey Gobble Gobble[2]

Cold Turkey Crew

Gravy Gurus

Cranberry Crushers

Pie Pals

Noms Squad

Plucky Poultry

Feasting Beasts
Turkey Trot
The Sage Squad

Room for Seconds[2]

The Gravy Boats

Ate Too Much!

We CRAN Do It!

Wobble & Gobble

Pour Some Gravy on Us[2]

Second Helpings[2]

Pumpkin Pies & Chicken Thighs[2]

The Casserole Crew

Turkey Day Dudes

Strides Before Pie

Gravy Gobblers

Feast Mode Matrix

Butterball Battalion

Guild of Gravy

Pacing Pumpkins

Tribe of Trotters

Galloping Potatoes

Pumpkin Patrol

Huff & Stuffed[2]

Stretchy Pants Posse

Trottin' Like It's Hot[2]

Wishbone Warriors

The Rogue Rolls

Jello Jigglers

Pumpkin Rolls

Trotters in Action

Attitude of Gratitude

Gobblers Guild

In a Food Coma

Full Plate Patrol

Stretchy Pants Clan[2]

Ahead of the Carve

Baby Pie, Pie, Pie[2]

Stuffing Stampede

Feathered Friends

Feathered Flyers

Drumstick Dashers

Gobble Gang

Tryptophan Trotters

The Butterballs

Pilgrims' Progress
Trivia
All About the Baste

50 Shades of Gravy[3]

Pass the Pie

Teenage Mutant Ninja Turkeys[3]

Halftime Heroes

Wings Warriors

The Dressed Birds

Cranberry All-Stars

The Gravy Group

Cornucopia

Harvest Heroes

The Roasted Turkeys

Stuffing Squad

The Gobbler Gang[3]

On the Side

Carbs Galore

The Fam Force

In the Game

Honey Baked Fam[3]

Turkey Please

Dessert Derelicts

The Spice Set

Sales Stalkers

All About Shopping

Turkey Traditions

Foul Play

Side of Gravy

Grateful, Inc.

The Pardoned Poultry[3]

Group of Gobblers

Food Coma Frenzy

Drumstick Vagabonds

Harvest Historians

Gobble-dy Geeks
Thanksgiving Team Name Generator
How to Create a Great Thanksgiving Team Name
No matter the event or activity, your Thanksgiving team name should be festive and fun!
Create a great Thanksgiving team name with the following tips:
Use the names of historical figures and places. Research the history of Thanksgiving and form your team name around central figures or places from that period in U.S. history. Choose a person you admire, a ship that the first settlers sailed on, or any other term that strikes your interest.
Think about what Thanksgiving means to you. You and your team may have similar memories and meanings associated with Thanksgiving. Come up with a word or phrase that is meaningful to all of you. The word or phrase you choose can be related to Thanksgiving dinner, activities, or feelings.
Find a tasty team name. When asked, "What's your favorite part of Thanksgiving?," most people will answer, "The food!" Consider naming your team after your members' favorite part of the feast. Dishes like cranberry sauce, stuffing, turkey, and mashed potatoes are essential to celebrating the holiday and can make great inspirations for team names.

Use humor and puns. Thanksgiving is a time to relax and have fun. Keep your Thanksgiving team name lighthearted by incorporating comedy, jokes, and puns into it. Have your group think of traditional Thanksgiving terms and convert them with a funny twist. The funnier, the better!