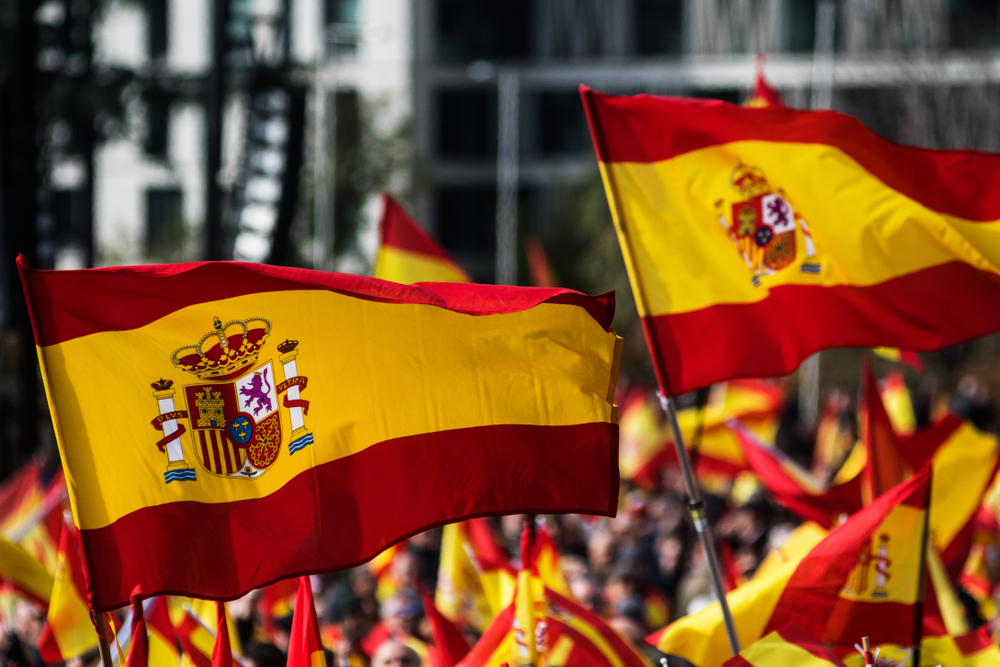 Spain is the fourth-largest country in Europe with a landmass of nearly 500,000 square kilometers[1] and a population of over 46 million.[2]
While many residents of Spain speak regional languages like Galician and Basque, the official language is Castilian Spanish — the first language of more than 70% of the country's population.[3]
The Spanish language spread throughout the world through colonization, bringing it to the Americas beginning in 1492.[4]
Today, it's the second-most spoken native language in the world![4]
Below, we have 30 Spanish team names — both team names in Spanish and inspired by the country of Spain. Scroll past the list for tips on creating your own names!
Catalan Crew[5]

The Surrealists

inspired by Salvador Dalí

Plus Ultra

inspired by Spain's national motto

Fiesta Planners

Spanish party

Los Guapos

meaning "the handsome ones"

¡Mola!

meaning "awesome"

La Caña

literally translates to "the cane," but is slang for something awesome

Las Perditas Fritas

meaning "the fried potatoes"

Las Ramblas[5]

Conquistadores

inspired by Spain's historic naval explorers

Sagrada Familia[5]

Imperial Eagles

inspired by Spain's national bird

Savory Tapas

snacks or appetizers common in Spain

Matadors[5]

Viva España[5]

The Bulls

inspired by Spain's national animal

Lo Mejor

meaning "the best"[1]

Las Guapas

meaning "the pretty ones"

The Camino Scallops

inspired by Spain's famous shell

The Bullfighters

Qué Chulo

meaning "cool"

The Catalan Donkeys

Costa del Sol Crew

meaning "sun coast"

The Cubists

inspired by Pablo Picasso's artistic movement

The Fighting Windmills

reference to "Don Quixote"

The Carnations

inspired by Spain's national flower

Vibrant Flamencos

spirited Spanish dancing

Merry Maracas

Majorca Mavens[5]

Mala Pata

meaning "bad paw," or bad luck

The Catalan Modernists

inspired by the architectural design movement led by Antoni Gaudí

The Red & Yellow

inspired by the colors of Spain's flag

Siempre Conectado

meaning "always connected"[1]

Castanet Clickers

Spanish instrument

Madrid Wanderers

Alhambra Lions

inspired by the legend of the 12 lions

Spaniards[5]

Twirling Whirling Skirts

Mediterranean Explorers
How to Create Your Own Spanish Team Names
While our list is full of unique suggestions, you might find that you want to create your own team names. Some teams prefer a name that's personal or reflects the team's purpose more closely.
Keep the following tips in mind to create your own Spanish team names:
Look into Spanish history and culture. Things like local festivals, Spanish songs, and important figures in the nation's past can provide a wealth of name ideas to inspire your team.

Explore Spain's cities and landscapes. Historic landmarks and regional sights can inspire your team name, as can features of Spain's natural landscape, like the Montes de Toledo or the island of Tenerife. If your team is from Spain or has traveled there extensively, this can make naming your team easy — just compile a list of your favorite places and put your creativity to work!

Watch your language! If you aren't a native speaker of Spanish and are creating a team name in Spanish, be sure to double-check your vocabulary. Make sure you aren't confusing any words or using phrases that don't make sense.